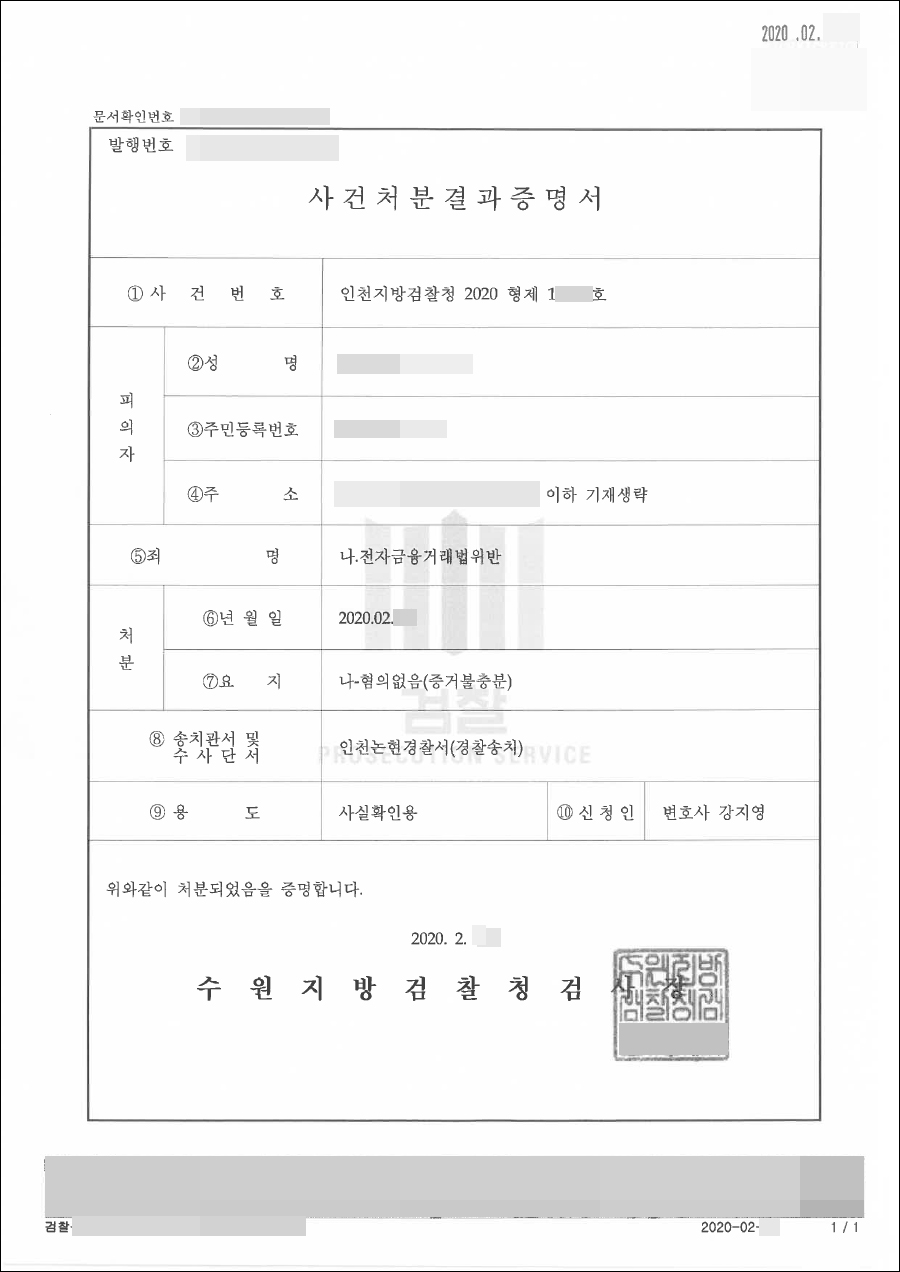 1. Case Overview
The client, an international student from Vietnam, was looking for a part-time job in order to reduce the burden of the university tuition, which was supported by the client's father, after the sudden death of her mother. She saw a job posting posted on the social media student community and contacted the recruiter. Afterwards, according to the person in charge who said it was necessary in the hiring process, the client transferred her ID and the bank account information to receive the salary, but was investigated on charges of violating the Electronic Financial Transactions Act.
2. Applicable Law
The charges applied to the client was that she lent the access material such as bank account information and password, etc., to others, enabling them to conduct electronic financial transactions using the access material without management and supervision of the client.
According to Article 6 of the Electronic Financial Transactions Act, the transfer or rental of access material is prohibited, and a violation of such act is punishable by imprisonment up to 3 years or a fine up to 20 million won. The access material referred to herein is an electronic card and electronic information equivalent thereto used to instruct transactions in electronic financial transactions or to ensure authenticity and accuracy of users and transaction details, including all commonly used passbooks, debit cards, cash cards, etc.
3. Assistance of Counsel
The client, a Vietnamese national, had a difficulty making accurate statements about the facts of the case. Unfortunately, the client was in a situation where it was difficult to avoid punishment for the given charges because of the statements, which was misrepresented due to an error in the interpretation/translation during the investigation.
Our lawyer and our Vietnamese-speaking legal interpreter quickly and accurately translated all evidences related to the case to prove the client's innocence, organized the case in detail and made a statement to the investigation agency, and actively argued that the charges to the client was not recognized.
4. Outcome
The prosecution accepted the arguments of our lawyers and cleared the client of the charges (insufficient evidence), and the client was relieved from false charges and returned to daily life to continue her studies at a domestic university.
5. Significance of the Outcome
The client, a foreigner, stated the circumstances of the case at the investigation agency, but the client could be punished based on the false facts due to errors in interpretation/translation, etc. during the statement process. However, with the help of our lawyers, the client was able to uncover the truth of the case at the beginning of the investigation and was eventually cleared of the charges, which makes the outcome of this case significant.